Crisp air, cozy sweaters, the return of Dunkin's Apple Cider. It can only mean one thing… IT'S FALL Y'ALL!!!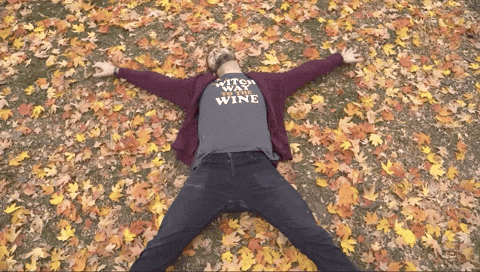 If you can't already tell, I'm pumped about fall and even more excited to decorate for my favorite season!!! Let the fall colors begin!!!
Whether you're in an apartment or dorm, you can still bring in autumn warmth in with these décorating ideas.
FAIRY LIGHTS
Fairy lights. String lights. Things that twinkle in the night. Whatever you want to call them, get you something that adds light and warmth. Because we're all about the cozy vibes, try putting them by a window and wrapping them around your curtains or over a comfy reading spot.
Pro Tip: If you're in a dorm, I would highly recommend the battery-powered kind, that way you won't have to worry about forgetting to unplug them or, worse yet, setting off that 3 am alarm!!!
CANDLES
Ring, ring. Do I hear Bath & Body Works calling? One of the best ways to make your apartment feel like fall is to make it smell like all the things we love about fall: pumpkins, spiced apples, nutmeg, and cinnamon. What better way to do that than to spend your hard-earned money on candles!
I personally am not a fan of typical "fall scents" so I tend to go for more muted ones like Eucalyptus, Sage, and Sandalwood. A few I'd recommend trying that are lightly fragranced are: Sweater Weather, Crisp Morning Air, or Flannel at Bath & Body Works.
Pro Tip: If you're in a dorm, try out the wallflowers plug-ins for whiffing great scents and add some battery-operated tea lights or fairy lights for that "dancing flame" vibes. Again, fire is not the goal!
COZY BLANKET
There's nothing better than cozying up with a gorgeous blanket on a lazy Netflix-on-the-couch kind of day. Add some rain, low lighting, and I'm in heaven!
To create a "fall vibe" in your home, go for classic prints like plaid — try mixing in a softer hue of the plaid you chose— add in some texture with materials like chunky cable knit, faux fur, or even sherpa to add dimension!
PILLOW SWAP
I'll let you in on a secret, I have a small obsession with pillows. No seriously, there are about 6 on my bed right now and I'm always thinking of how to expand my collection plus still have a piece of bed to sleep on. As a matter of fact, when it was time for college packing I had to purchase an extra-large box which I non-shamelessly dedicated to my pillows #pillowcrazy. Yes, it's that serious.
Now that I've probably overshared, swapping out your pillows is a great way to add some fall vibes to your space. Whether they be on your couch or on your bed, try switching them out for ones in more muted shades. Oranges, browns, greens, and reds are a great starting point.
To add even more flair, add some of that same faux fur, knits, or plaid patterns similar to the Cozy blanket suggestions to get that HGTV looks we all dream about.
Not into hoarding pillows? Try looking for pillow covers that you can slip over your existing pillow. Not only will you save room (don't judge) and storage space, but they're much easier to throw in the wash than the whole pillow.
BRING THE OUTSIDE IN
Who says what you find outside has to stay outside? To get that earthy feel all over your pad stockpile some of nature's best treasures inside.
Grab some pine cones and put them in a vase or clear container or grab some leaves and string them together with twine to make a garland!
Another thought, look up some DIY projects on Pinterest. There are tons of crafts you can do with mason jars, wood boards, shiplap planks, photo frames, and (gasp) artificial flowers. For that last one, look for unusual types and shapes to pair with wood or natural plants.
What's your must-have fall décor item?