Disclaimer: All views mentioned below are my own. This post is not sponsored.
After falling head over heels into the subscription box craze, I stumbled upon a subscription box called IPSY. That was back in January and I haven't looked back since!
Always one to stay on budget (#collegementality), I wanted to find a company that not only offered a subscription at a reasonable price but also one that provides high quality products.
The thing I love most about it is that as someone who still struggles to keep up with makeup tutorials (don't know how the beauty gurus do it!), I now have a chance to access brands I've been eying-, those a tad out my budget, plus ones I didn't even know I needed!.
So, without further ado, here's the rundown of my IPSY review:
HOW IT WORKS 
IPSY's Glam Bag subscription-based program, with three subscription tiers.
Glam Bag is $12 per month or $132 annually. What do you get? A travel-sized makeup bag filled with four to five deluxe-sized samples or full-sized beauty products (your choice), plus free shipping (for all tiers of subscriptions).
Glam Bag Plus is $25 a month. What do you get? A makeup bag & 5 full-sized products
Glam Bag Ultimate is $50 a month. What do you get? A deluxe makeup bag 12 beauty products.
Each bag is put together to offer subscribers a complete makeup look. This includes at least one product for your skin, eyes, and lips.
They also give you the option to "adjust your glam frequency." You can choose from every month to every 2 months, or you can just pause it completely so you don't receive any new bags!
Even cooler is that when you do have an active subscription, every bag sticks to a theme that IPSY picks out for that month which is a total yay for marketing! I just love seeing how the curators integrate a monthly theme with the bag design.
SIGNING UP
All of the products are personalized to your preferences and based on an in-depth beauty quiz you take when you first sign up. Questions range from the basics: eye color, hair color, skin color to favorite brands to preferences for items. Once you're done, IPSY curates your very own bag and for me, they've been pretty spot on.  
Oh, almost forgot! One of my favorite parts of the subscription is that you get to preview your upcoming bag. Feeling a little adventurous? Don't preview what's coming and be surprised when it arrives!  Another great perk is that there are "flash" sales that allow you to purchase extra products to add to your Glam bag if you like. They range from $5 – 16 per piece, again, your choice whether to do so or not.
After you get your goodies you're also able to review them which has an impact on what products they'll send you in the future. So, it really helps you most if you're super honest about your likes and dislikes!
GLAM BAGS
JANUARY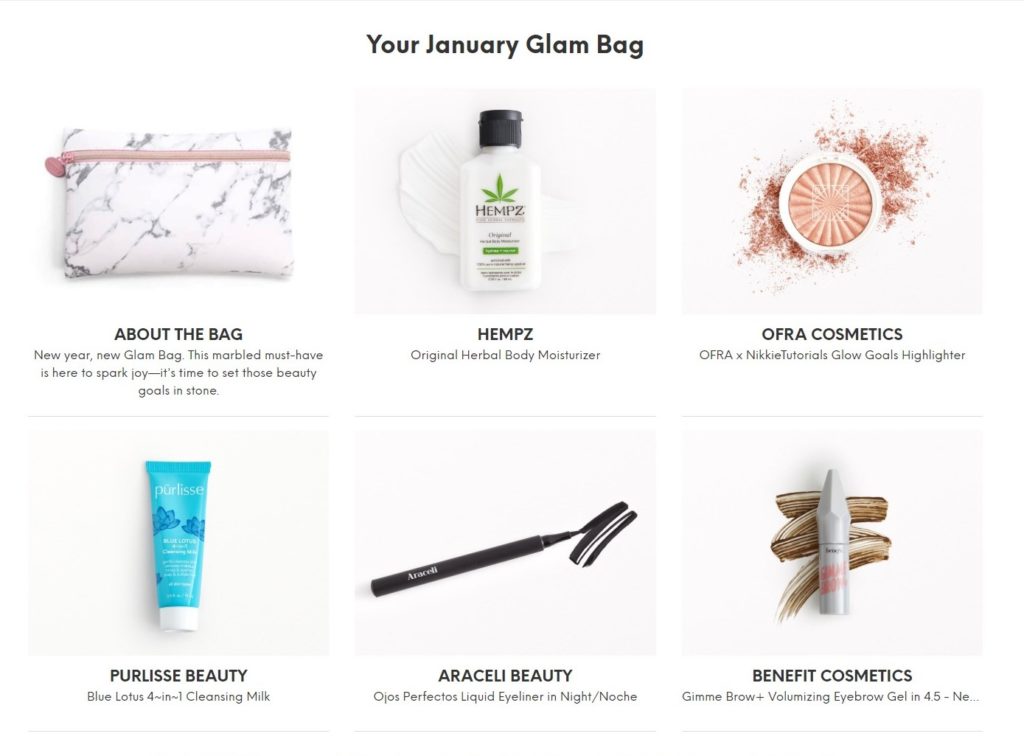 My first glam bag came in January and was this gorgeous marble bag with pink detail! I was pretty stoked about all the products, but by far my favorites were the Purlisse Beauty Cleansing Milk, the Araceli Beauty Liquid Eyeliner, and the Ofra Cosmetics Highlighter.
I found the lotion had initial moisture but wore off after like 10 mins and the brow gel, dare I say, made my brows too voluminous. But then again I already have pretty heavy eyebrows so I didn't need to create a sun visor by making them more voluminous!
MARCH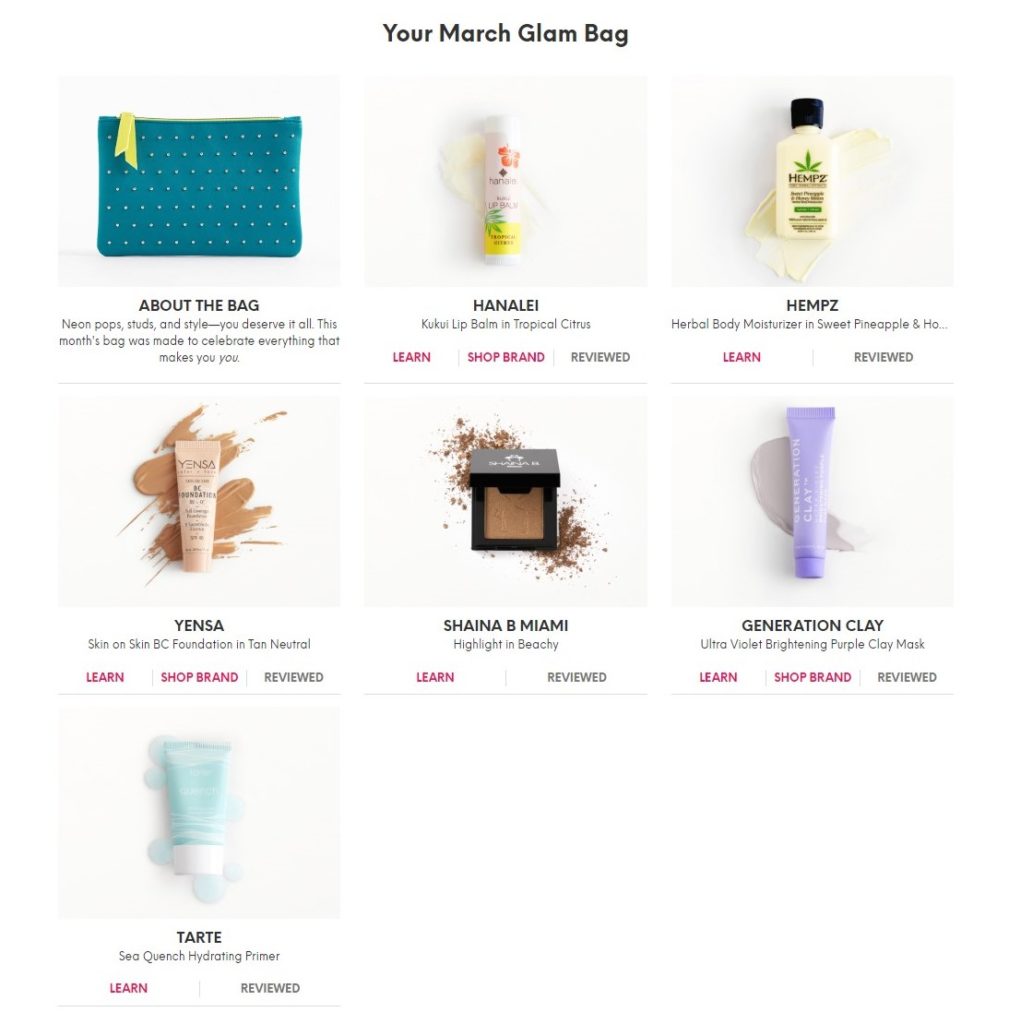 I ended up switching my frequency to every 2 months, so no February bag for me but March's didn't disappoint. Y'all this bag was EVERYTHING and by now, I think IPSY got a better feel for products I like based on my January bag review.
I loved every product except for the Generation Clay clay Mask which I really wanted to work cause I'm a sucker for skincare. Unfortunately, it made my skin tingle and I think the scent was too strong for me.
The lip balm and lotion were super moisturizing and smelled amazing (think a Hawaiian vacay), the BC foundation matched my shade EXACTLY, the primer smelled like the ocean and hydrated my face to the max, plus the bronzer… oh, the bronzer, it added that summer glow!
APRIL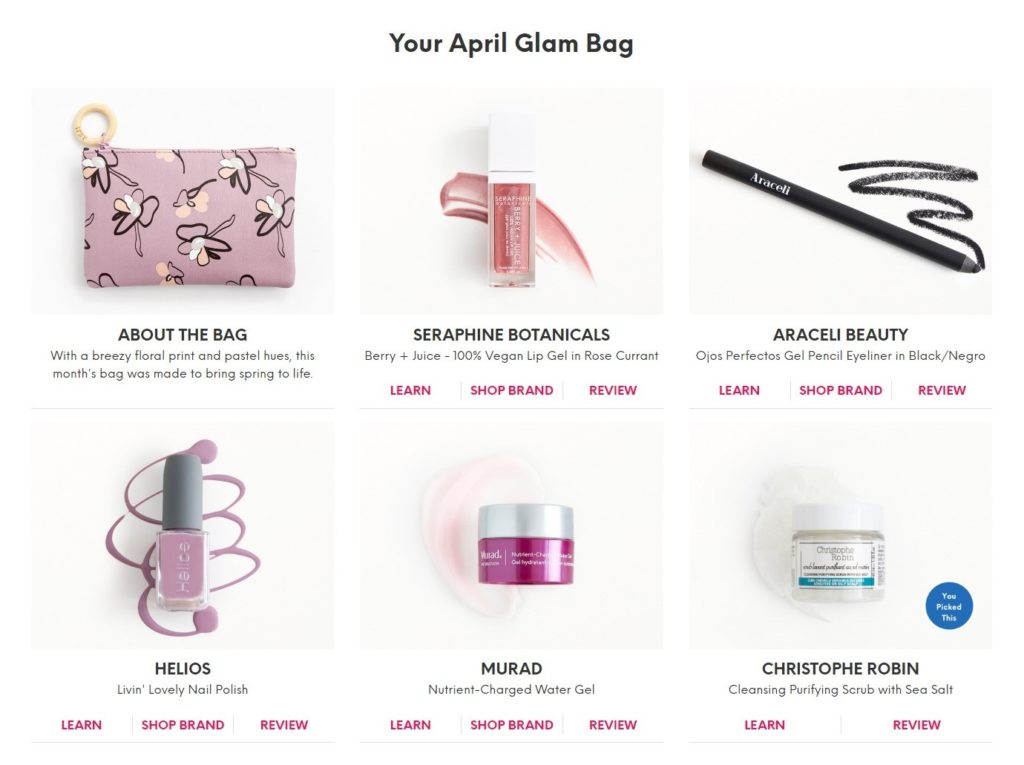 So I caved and switched the frequency back to every month because I was getting withdrawals… yes, I know #noselfcontrol. But I didn't regret my backsliding one bit because y'all I almost cried when I saw how cute the April bag was. The shade, the flowers, everything about it, screamed Spring and I was here for it! 
Again, IPSY nailed it with items because I genuinely loved everything in this bag! So, if you decide to subscribe, review, review, review!
OVERVIEW
I truly look forward to getting my Glam Bag once a month and think it's a great value. Plus, I get adorable multi-use bags (think makeup, toiletries, etc.).
Bonus #1? You have a ton of options to choose from based on how long you're subscribed. And if you're feeling in the giving spirit, you could re-gift the bag and fill it with goodies for friends & family!
Bonus #2? Refer a friend and earn 600 points good toward those extra products you can add to your bag! So if you're interested, you can use my referral link to sign up!
---
Want some more beauty-related articles? Check out some of my other posts:
Do you have other subscription boxes to recommend?